About Bonsai in India
One theory about the beginning of Bonsai is that it actually originated in India. Ancient ayurvedic physicians carried back shoots from medicinal trees from the Himalayas and grew them in miniature forms in pots by trimming and cutting back the roots, the tulsi being a good example of this. In the 12th century Bonsai in India was known as Vamanatanu Vrikshadi Vidya which translates as the science of dwarfing trees.
The Indian Bonsai Association - Delhi
The association conducts regular demonstrations and workshops every month. Members are encouraged to bring their plants and discuss their problems and every possible assistance is given to them. Experts from related fields are invited to deliver talks, and Masters of International repute have been invited to demonstrate advance bonsai techniques.
For More information Contact: Dr. Hari Om Ahuja, B-17, D.D.A Flats, Saket, New Delhi 110017, INDIA, Phone: 98100 01697 email
hariom.ahuja@gmail.com
Classes for Beginners
are conducted by our senior members check the Indian Bonsai Association website for more details.
The Indian Bonsai Association annual exhibition
- Delhi, first week of April
The association along with co-host ITC Hotel Maurya Sheraton & Towers holds an exhibition in the first week of April, where members exhibit their best specimens of Bonsai. This exhibition, which is one of the best in Asia, is visited by a large number of people.
National Bonsai Park
- Lodhi Garden - New-Delhi
A National Bonsai Park is set up at Lodhi Garden in collaboration with the New Delhi Municipal Corporation. The Park houses Bonsai plants looked after by the Indian Bonsai Association. It can be visited on all days of the week without any entry fee.
Bonsai Clubs and Societies in India
Information and contact details for Bonsai clubs and societies in India
Kishkinda Moolika Bonsai Garden
With different species of bonsai trees ranging from three years to 200 years old, Kishkinda Moolika Bonsai Garden at Sri Avadhoota Datta Peetha in Mysore, India is billed as the largest bonsai gardens in the country. It has 250 bonsai trees grown in different styles and procured from various countries.
Ssurup Bonsai village
cuddled up in the quiet Shedung village, near Panvel, flaunts the largest tropical and bonsai plant collection in India.
Bonsai Wonder - Display at NTR Memorial Park, Hyderabad
Approximately 3,000sq feet of land in this park has been designed for Bonsai Display and named BONSAI WONDER. Members of our group enthusiastically contributed more than 100 best Bonsai in various styles and species from their personal collection. Most of the Bonsai are of local tropical varieties with the species of Ficus family being more number
WWBF Indian Region report - by Nikunj S. Parekh
Modern Bonsai in India got started in the early 1960s and has become more popular since the end of 1970s. Bonsai growing as a hobby got a major breakthrough in the year 1979, with the establishment of the Bonsai Study Group of the indo-Japanese Association. With a tropical climate in peninsular India and a sub-tropical climate in the north, we in India tried to concentrate on locally available Ficus trees. They included Ficus benghalensis, Ficus ramphii, Ficus religiosa and Ficus virens
Other Bonsai Articles by Nikunj S. Parekh
Growing Bonsai in the Hot Arid Regions of Central India
Zhao Quinquan Workshop in Mumbai
Bonsai Study Group Indo Japanese Association

Suiseki in India
This nice "Baseball Shaped" Suiseki is from India, unfortunately I have forgotten where the picture came from so if its yours please forgive me for not asking permission to use it.
Bonsai_Rao.com - Hyderabad & Secunderabad
Mrs. Mangala Rao Nilangekar, is an exuberant and well acclaimed Ikebana and Bonsai artist. She is an instructor of Ohara school of Ikebana, Japan since year 1986. Her strong grounding in Ikebana and love of Nature inspired and brought her very close to Bonsai art. She studied deeply this art and focused on imparting the skill to Bonsai lovers from twin cities of Hyderabad and Secunderabad in India.
Kapilaa's Creations - Pimpri - Pune - Maharastra
In addition to landscaping, we offer expert assistance in the art of BONSAI. We have Bonsai plants for sale and exhibition and stock all the required tools and implements for sale to Bonsai enthusiasts. Kapilaa's also has a Bonsai study group which meets monthly and if you want to create your own Bonsai you can attend one of there regular Bonsai classes. Ph: (020) 27464082. Email:
kapilaas@yahoo.co.in
Introduction To The Bonsai Technique
Online Bonsai Course
Zee Interactive Learning Systems have an interactive online Bonsai course which covers all aspects of creating and maintaining Bonsai concluding with a 5 day practical session.
BONSAIINDIA.net - Shamsher and Kanwaljit Deol
We have both grown Indian Bonsai for the last fifteen years. We came to Bonsai through a love for trees: their form, their beauty, their individual spirits or 'personalities.' BONSAIINDIA.net is an attempt to share the joy of Indian Bonsai. Our aim is also to provide a forum for you to share your ideas, techniques, and trees with others so feel free to e-mail us your queries or suggestions
Art of Bonsai - Indira Mehta - Chennai
.
Photo feature on Bonsai
- Chennai - India
The Mughal Gardens in Rashtrapati Bhavan
The Bonsai collection of the Rashtrapati Bhavan (The official residence of the President of India) is considered to be one of the finest in the country. The whole garden area's cover 354 acres which includes 6 hectares of the famous Mughal Gardens attached to the main building of the Rashtrapati Bhavan. The Mughal Gardens are open to the public February - March every year. The Garden is open this year till the 15th of March, The entry and exit into the gardens will be regulated from Gate no. 35 of the President's Estate , which is located near the North Avenue, at the western end of the Church Road.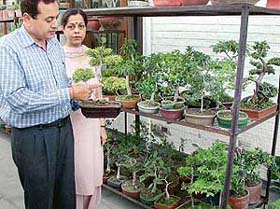 Bonsai small in size, but a big attraction
Chandigarh Tribune online article
As living spaces reduce in size, and love for bringing nature in close proximity, though in a representative form, this Oriental art of dwarfing trees is being rediscovered by the residents. They now have bonsai peepal, pilkhan, jamun and mango adorning their terrace, drawing room, or the specialised bonsai racks in their gardens. These bonsai enthusiasts swear by the art, and maintain that creating bonsai gives them satisfaction as it is recreating nature.
The Agri Horticultural Society of India
Situated at 1 Alipore Road, Kolkata, in the prime locality of the city and spread over 21 acres comprising main lawns and informal gardens and children park, having many rare and tropical plants as gene banks and a Bonsai display.
Green Grower Garden Centre
Houses a collection of over 100 Bonsai from India and abroad some of which are over 25 years old. Green Grower has received numerous prizes in various Bonsai competitions - most recently the 'Best Bonsai Trophy' awarded by the National Society of the Friends of Trees. Our Bonsai exhibition is open Monday through Saturday at 9.30 am to 6.00 pm.
Mahatma Gandhi Sewa Mandir, Opp. Bandra Talao,
S.V.Road, Bandra (West), Mumbai - 400 050. INDIA.
Phone: 91-22-2641 5985 / 2642 7094 Fax: 91-22-2643 6029
E-mail:
ggrower@pcil.co.in
More Information about Bonsai in India
additional information, links and experiences