More Information about Bonsai in India
Floras kolkata
Bonsai and other gardening resources from India

Mr. Rajandran - Chennai
We have more than 1000 Bonsai speciements of nearly 200 tree varities.We are located in Chennai, India. We are conducting Bonsai classes with inhand training.
No. 5, Ramachandra Street, Saravana Nagar, Seevaram, Chennai - 600 096, INDIA. PH: +91-9841274639
Contact Mr. Rajandran at the above adress or Email: info@rrgardens.com
Mamta's Bonsai Jungle - Gwalior
Mamta Mishra's residence at 37, Race Course Road in Gwalior is a mini bonsai jungle. Nothing exactly new there. What makes her special is her zeal for popularising the art of Bonsai. A post graduate in Hindi literature with ample experience of rural life the expertise of Mamta Mishra in bonsai landscaping had won her laurels and several men and women are taking advantage of her know-how by learning Bonsai. Her collection of plants and her way of nurturing them through her self manufactured manure and apparatus stands her out of the hundreds other bonsai expert.
Bonsai-India - Bhopal
Vivek Shukla is among the top professional Bonsai artist in India and was an Exhibited Entry Award Winner in the JAL World bonsai contest 1999 Japan. He is full time bonsai grower, horticulturist and conducter of bonsai classes and demos. Contact: Vivek Shukla Address: G-2/256, Gulmohar Colony, E/8 Bhopal (M.P.)462039 India. Ph: (0755)561287/725901 Email: shuklavivek@mailcity.com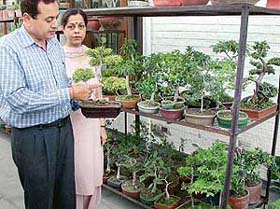 Greenrhythm from Ankur House of Plants- Mumbai
Our personal collection has over 300 varieties of rare and beautiful miniatures, kept meticulously at our terrace garden in Mumbai. At Greenrhythm, you can buy a bonsai to gift, if you want to learn bonsai - you can enrol in the basic and advanced courses. An additional service is the bonsai creche, where we look after your prized possessions while you are out of town
Bonsai grower - Patnaikpara, Sambalpur, ORISSA.
I am a Bonsai lover & I have a large collection of Bonsai plants , which I have devloped for the last 16 years. My postal address is given below You can contact me in this address. Mrs Shanti Agrawal, C/O Bijay Agrawal, At - Patnaikpara, Sambalpur 768001 ORISSA. Phone- 91-663 532285/405094 Email shantibijay@hotmail.com
CUTE Bonsai Consortium - Ranchi
Mr Shankar Chanda, 45-year-old, started bonsai when he was 15 years old. In Ranchi, he started popularising bonsai art ten years ago. In the process he formed an organisation `CUTE'. It is not a club, it is a consortium, said Chatterjee. CUTE has been imparting basic principles of the bonsai art form in and around Ranchi for a decade. At CUTE's last exhibition was held in December and about 222 bonsai plants and 16 rock formations, belonging to 24 participants, were on display at the Ranchi Club premises in an effort to increase awareness of the art of bonsai. The exhibition is held at different places, depending on who chooses to allow use of the premises free of cost.
K.P.Sairaj - I am ready to answer the queries of people on tropical bonsai especially ficus. I am a post graduate in Horticulture with experience in bonsai. I am also interested to learn latest technology with reference to the art of Bonsai. Email kp_sai@yahoo.com
Bonsai show - Juhu
The Bonsai Village VII, was held at Jamnabai Narsee School, Juhu. This annual flower and garden show, has become one of the highlights of Mumbai's overflowing social calendar. The Bonsai exhibition boasted over 200 exhibits, and is held every December.
ZEST - Deals in bonsai, plants, gardening, etc - New Delhi
Address : 24 Polo Road, Delhi Cantt, New Delhi 110 010, India
Phone : +(91)-(11)-5699657