Nippon Bonsai Association
Joining the Nippon Bonsai Association is not cheap. There is a "joining fee" of 5,000 yen (US $42) and yearly dues for overseas members are 20,000 yen (US $170). You get a monthly magazine devoted to events, all in Japanese, and you also get the annual Kokufu-ten Catalog. Contact: Mrs. Hisako F. Saito in the International Division or Ms. Dambara thier English speaking contact person,
8-1 Ikenohata 2-chome, Taito-ku, TOKYO 110 Japan.
Tel: +81 3821 3059 Fax: +81 33828 9150
Nippon Suiseki Association
This website will tell you all you need to know about the Nippon Suiseki Association in Japan
Also:
Japanese Suiseki History, Glossary & Classification
Bonsai in Tokyo
A collection of Bonsai articles and links in and around Tokyo
Omiya Bonsai Villages
You may be surprised to learn that there are actually 2 separate Bonsai villages in Omiya. There is a Bonsai Village (Bonsai-cho) near Omiya Koen station, there is also a smaller Bonsai village in Someya a suburb of Omiya City. Click on the above link which will give you far more detail about the Bonsai Villages of Omiya all of the Bonsai nursery and festival details.
Kinashi Bonsai Village - Shikoku Island
The town of Kinashi has developed and prospered as the center of Bonsai dwarfed plants, It started more than two hundred years ago when a local pioneer picked pine tree saplings he found on neighboring islands and cultivated them in his own special way and sold them. It has grown into a special product of the area and attracted the increasing number of Bonsai lovers across the country. The elegantly and magnificently shaped dwarfed Kuro-matsu and Goyo-matsu and the gracefully trimmed Nishiki-matsu are especially popular. Today the Kinashi's market share of the Bonsai pine trees in Japan is over 80%, and worldwide the number of lovers of this miniature beauty is ever increasing.
Kinashi Bonsai Map
Pictorial essay of Stuart's Bonsai trip to Takamatsu, Kinashi & Kyoto in June 2005, fantastic pictures and a very usefull map of the Kinashi Bonsai Nurseries, Especially reccomended is a visit to nursery #2 where the owners wife spoke fluent english.
Bonsai Guide Book In Japan
Lots of local information including Maps and links to the famous Japanese domestic store of Bonsai, Shohin-Bonsai, High-quality Bonsai-Pot, Bonsai-Rack and Suiseki. Some English but much of this is in Japanese - by Higuchi Takeshi
Koju-en Nursery - Kyoto
At Koju-en Nursery, Kyoto, we have excellent mini-Bonsai (less than 20 cm) and old famous high-quality Bonsai pots. In Japan, Mini Bonsai are becoming more and more popular. Located at 19 Karahashi Isono-cho, Minami-ku, Kyoto Ph: 601-8462 (It takes 5 minutes by taxi from JR Kyoto station.)
Major Bonsai Exhibition in Kyoto each year:
Taikanten - November, 2002 Miyako Messe, Kyoto
If you visit any of this Major Bonsai Exhibition and fly by JAL they will give you a free admission ticket for each of these Bonsai Exhibition, contact to your nearest JAL office for more details.
Koju-en Nursery
also has a webpage that contains a Bonsai exhibition schedule for Japan. and information in english about the "All Japan Shohi- Bonsai Association"
World Bonsai Contest - Japan
This International Bonsai Photo Contest will be organized headed by Mr Saburo Kato, Chairman of Nippon Bonsai Association and will be supported by Nippon Bonsai Association & Japan Airlines. So far this has been a yearly competition and entry period closes - July 31 and the First prize and 2 runners up win a trip to the Kokufu-ten & award ceremonies in Tokyo, Japan.
Masakuni Bonsai Tools
The Bonsai tool originator MASAKUNI Co., Ltd. is the only one full-scale maker in Japan and has over three-quarters century of experience in producing Bonsai training tools.
Best Bonsai and Suiseki Exhibits in Japan
Today, there are literally hundreds of Bonsai and Suiseki exhibits held throughout Japan. Most are local or regional shows. There are several outstanding national and large regional exhibits that are likely to be of interest to those planning a trip to Japan. The best-known and finest exhibition is the Kokufu-ten sponsored by the Nippon Bonsai Association and held in mid-February. If you can only make one exhibit, this is the one. If, however, you are traveling to Japan at other times of the year or you wish to see more suiseki or specialized bonsai types such as shohin or satsuki azaleas, then this link to the best exhibits of bonsai and suiseki in Japan may be of interest. -
By Thomas S. Elias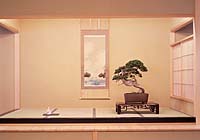 The Taikan (Bonsai Museum)
Obuse - near Nagano
This Bonsai Museum created by Mr. Shinji Suzuki has an incredible collection of masterpieces, and Mr. Suzuki changes the arrangement of the plants daily so that each visit to the museum becomes a new experience.
Plum and Bonsai exhibitions of Keiunkan - Nagahama, Shiga
Keiunkan was built as a rest house for the Emperor Meiji's Visit to Nagahama in 1887. Every year, from January 10 until March 10, Keiunkan houses one of the top Plum and Bonsai exhibitions in the country. Located at 2-5 Minato-cho Nagahama, Shiga, Japan. Time 9am ~ 4pm Tel 0749-62-4111 (Nagahama tour organization)
Bonsai Network Japan
Bonsai courses, workshops & tour guide
My service is to give information about Japanese bonsai to people who are coming to Japan and who want to learn about it. I can coordinate your visit to Japan to have the right access to the Japanese bonsai world, and can help as an English speaking tour guide, also organise Bonsai courses & workshops etc. Yoshihiro Nakamizu.
KINDAI BONSAI - Japanese Bonsai Magazine
The monthly magazine "KINDAI BONSAI" takes pride in having the best contents and popularity in the world. We are sure that the contents of this one publication can completely satisfy everyone, from the beginner to the experienced bonsai person.
World of Mini-Bonsai by Kyosuke Gun and Sachiko Iwasaki
Mame are the smallest of Bonsai being no more than 7cm in height, Mini Bonsai from 5 - 7 cm are sometimes referred to as palm sized Bonsai as the pot will fit in the palm of one hand. The term mame only refers to the size of the tree, so mame may be seen in all styles. other smaller Bonsai are Shohin from 10 - 20 cm and Kifu 10 - 35 cm. Creating a reasonable branch structure and trunk with mame is no more difficult than with larger bonsai, however it is sometimes not practical with a smaller mame trees, so you may see a single leaf playing the part of an entire branch. The link above will take you to the World of Mame with many pictures.
Other Mini Bonsai links
Mini Bonsai Newspaper
- -
The Bonsai (Osaka)
- -
Shohin-Bonsai
All Japan Shohin-Bonsai Association
The Head office of 'All Japan Shohin-Bonsai Association' is now located at 19 Karahashi Isono-cho, Minami-ku, Kyoto. This group is organized by small sized Bonsai lovers and has more than 2,800 members and about 68 branches around Japan. The membership fee is 12,000 yen a year (The member who lives abroad must pay 20,000 yen a year) and members get six magazines a year and the photo book of 'Gafuten' which is the biggest exhibition of Shohin-Bonsai held in Kyoto (Miyako-messe) in January. It also organizes 4 more exhibitions of Shohin-Bonsai. Shugaten in Tokyo(Ueno-Green-Club) and Kyushu-Miyabiten in Kumamoto pref in November. Hokuriku-Miyabiten in Fukui pref in October and Shungaten in Osaka in March.
Yamamoto - Garden Plant Producing Center
Yamamoto garden plants have a long history, and in the Kamakura Period (1185-1333) Yamamoto already enjoyed social prestige as a place of garden plant production. At present, in the Yamamoto district they grow and sell many kinds of plants, including Bonsai, pot plants and garden trees. The Yamamoto garden plant producing center has become a very important place that provides city people with flowers and green plants and it also attracts garden plant lovers from all over Japan. Located a walk from Yamamoto Station on the Hankyu Railway Takarazuka line. Takarazuka City Hyogo Prefecture
Bonsai Skill Course
Correspondence Course by the Japan Gardening Society, course all done in Japanese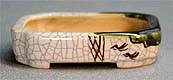 Tokoname Bonsai Pottery
Tokoname Pottery Fair - is held on the fourth Saturday and Sunday in August each year. Tokoname pottery originated in the 12th century and is one of the six ancient kilns in Japan. Their main products have been shifted from unglazed pots and jars in olden days to a variety of articles such as household items and Bonsai pots. Located at 3-8 Sakae-machi, Tokoname, Aichi Prefecture, tel 0569-35-4309
Tokoname Pottery Path
Welcome to Tokoname and "Yakimono Sanpomichi" or Pottery Path. This informative walk started as a natural tour of the various points of interest in Tokoname in about 1972, and is filled with old traditional houses, workshops and buildings of great character and interest. It has remained unchanged keeping its pottery-town atmosphere, unique to Tokoname.
another
District Map of Tokoname Bonsai Pot Makers
Tokoname Bonsai Pot Makers
- this is a list of the some of the Master Bonsai pot makers and the stamps & marks that they use.
Shunka-en Bonsai Garden - Tokyo
The Shunkaen Museum of Japanese Traditional Art "Bonsai" - In the grounds of Kobayashi Kunio's private residence in Edogawa-ku (ward), Tokyo stands the bonsai artist's own bonsai museum, the Shunkaen Museum of Japanese Traditional Art "Bonsai." Constructed at a personal cost of ¥1 billion ($7.8 million) over a period of 15 years, Kobayashi's museum accommodates a collection of 2,000 bonsai-related artifacts, including several 500-year-old bonsai that are as good as national treasures. Kobayashi is a living legend in the bonsai world. A four-time winner of the top Prime Minister's Prize at the prestigious Japan Bonsai Exhibition, and a winner in seven of the Exhibition's nine categories overall, his achievements are unrivalled The Shunkaen Museum of Japanese Traditional Art "Bonsai" is open from 10:00 a.m. to 5:00 p.m., Tuesday through Sunday. Admisision is ¥800 (including tea). For more information: tel. (81) 3-3670-8622, fax (81) 3-3670-5884.
A photographic tour of Shunkaen Museum
Taisho-en, Shizuoka
A photographic tour of Taisho-en, Shizuoka. which is a working nursery in Shizuoka (the foot of Mt. Fuji). It is run by Mr. Nobuichi Urushibata and specialises in Shohin bonsai. That being said there were numerous examples of fine medium and large bonsai as well.
Mr. Urushibata offers 3 month student positions that can be arranged via the
Bonsai Japan website
.
The Takagi Bonsai Museum - Tokyo - CLOSED
Owned by Mr Reiji Takagi this museum is a unique tranquil retreat in the middle of one of the world's busiest cities. One floor is full of well-tended miniature trees up to a century old another floor houses a Japanese-style garden.
The Takagi Bonsai Museum is located at 1-1, Gobancho, Chiyoda-ku, Tokyo 102, 10:00am-5:00pm, Tel: 03-3221-0006 Closest Station: ICHIGAYA Sta.: JR
UNFORTUNATELY I AM TOLD THAT THIS IS NOW CLOSED
Japan Satsuki Guild
The name Satsuki is written with two Japanese kanji characters. Sa, which translates to five, and tsuki which translates to moon. Therefore, Satsuki means fifth month of the oriental lunar calendar. The lunar month of May corresponds to our sixth month of June. The name refers to the flowering period of the plant, which is late May to early June. The Japanese have been growing Satsuki as show plants in containers for over 300 years. Today Satsukis are extremely popular as bonsai trees in Japan, and are beginning to become popular as bonsai throughout the world. They are spectacular when in flower, and are shown at the annual Satsuki shows held in Japan when the plants are in full bloom.
Japanese Sago Palm - Cycas revoluta
This dieocious native of southern Japan, China and the Ryukyu Islands (where they are sometimes grown as Bonsai) is a primitive plant, dating to the Mesozoic era. They grow very slowly, but require little care other than to remove dead leaves.
Other Japanese Bonsai Web Links
Other Visitors Bonsai Experiences