Alocasia longiloba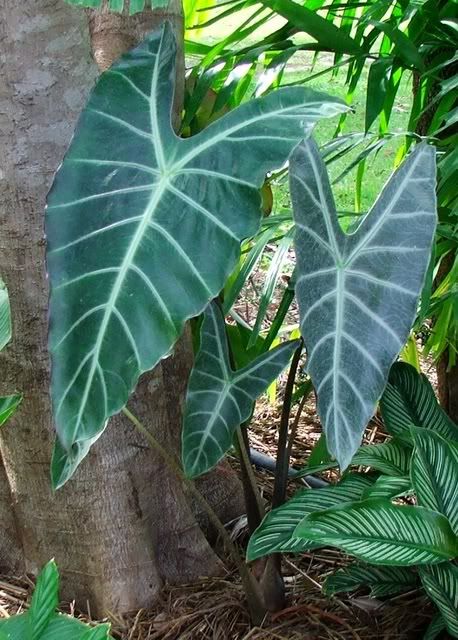 Description
This gorgeous Alocasia has huge arrow shaped leaves, around 1 to 1 1/2 feet long once fully grown. The front of the leaves are a bluish green colour, with blade margins, the midrib and primary veins a beautiful silver-grey. The backs of the leaves are eggplant purple.
This plant really stands out because of the silver markings on the leaf, and is one of my favourite alocasias.
It likes a reasonably shady spot (around 60 - 80% shade) in order to get the nice large leaves.
There are a number of varieties of Alocasia longiloba, which were previously split into several species - including Alocasia lowii 'Grandis', Alocasia lowii 'Veitchii', and possibly even Alocasia watsoniania. Botanists have now grouped these varieties together as all being different forms of longiloba, although the variety pictured is the 'original' longiloba.
Alocasias require continual warmth and humidity. The soil should be rich but well drained, and the plant appreciates frequent watering (daily), especially as if grows larger. Note however, that when the plant is young and small, too much water (particularly if the weather is cold) will rot the tuber, so be careful not to overdo it.
At a glance:
Suitable for Zones: 9 - 12 (see my Zone Hardiness Map page)
Sun requirements: Full Sun to deep shade (up to 60-80% shade)
Moisture requirements: Moderate to high, well drained soil
Size when fully grown: 50cm to 1 metre (1-3 feet), similar spread wide
Not frost tolerant
Suitable as an indoor and container plant
Back to Alocasias page 1