Alocasia macrorrhizos 'Variegata'

Back to Alocasias page 2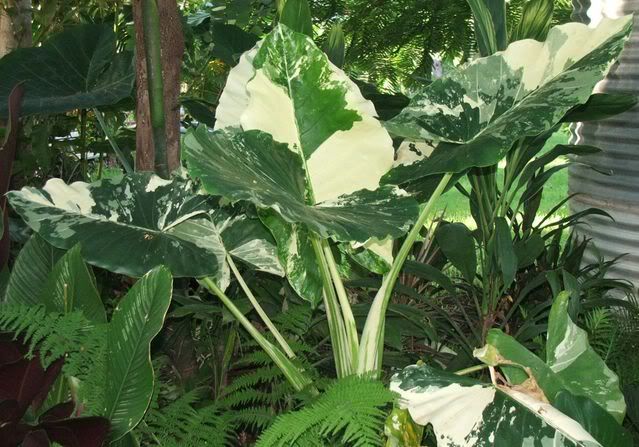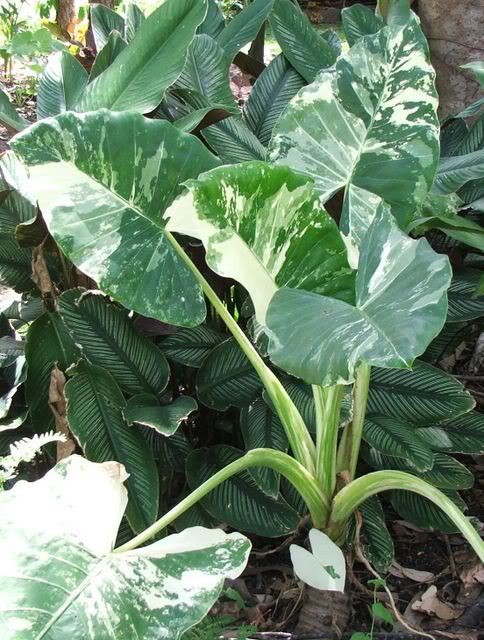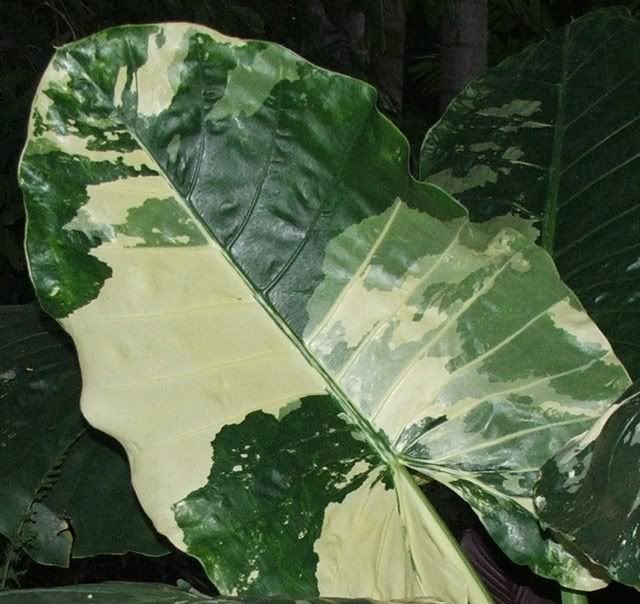 Description
This beautifully variegated elephant ear is Alocasia macrorrhizos (also 'macrorrhiza') 'Variegata', or 'Variegata alba'. When fully grown, this beautiful elephant ear has gorgeous glossy leaves up to 1 metre long, each of which are beautifully marbled with tones of green, cream and white.
The variegation is random, so each leaf is different. Some leaves will have a lot of variegation, some only a little. Occasionally, a leaf will come out pure white (although these don't usually last very long, as without the green-coloured chlorophyll-filled part of the leaf, there is no photosynthesis and that leaf will die).
This is a fast growing Alocasia. In good conditions, a baby plant (20cm high) will reach 1- 1.5 metres plus in about 1 year.
Alocasias require continual warmth and humidity. The soil should be rich but well drained, and the plant appreciates frequent watering (daily), especially as if grows larger. Note however, that when the plant is young and small, too much water (particularly if the weather is cold) will rot the tuber, so be careful not to overdo it.
It prefers 40% - 60% shade. Leaves grow larger and more spectacular in shadier areas.
Once the plant gets big enough, it will also start to produce offsets (baby plants) which can be easily transplanted.
Sun requirements: Full Sun to medium shade (up to 40-60% shade)
Moisture requirements: Moderate to high, well drained soil
Size when fully grown: 1 to 2 metres (3-6 feet), similar spread wide
Not frost tolerant
Back to Alocasias page 2