Nigel Christmas Australian Alps Walking Track Spring 2006 Walhalla to Tharwa
Page 1  Page 2  Page 3  Page 4  Page 5  Page 6  Page 7  Page 8  Next Maps & Equipment Food Reflections & Planning
UPDATE (16/3/2009) AAWT TRAVERSE 2008 CLICK HERE
McMillan's Track – Omeo to Woods Point 2011 CLICK HERE
Thursday 28th September
Dad and I left Dubbo at midday and headed to Kiandra via Young and Gundagai. We only made Kiandra around 30 minutes before dark, managed to place the food drop and head back to the car in darkness by torch. Nearly ran out of LPG in the XD; were very happy to find Adaminaby had it (he closed 5 minutes later). Proceeded to Jindabyne and had dinner by ourselves in a Chinese restaurant. The caravan park was closed so we went directly to Dead Horse Gap. Dad had lost the caravan keys at Kiandra so we had to improvise to raise the 'pop top'. It hit a low of 2.8C and blew all night. We had one beer and said goodnight.
1 40 days of dehydrated dinners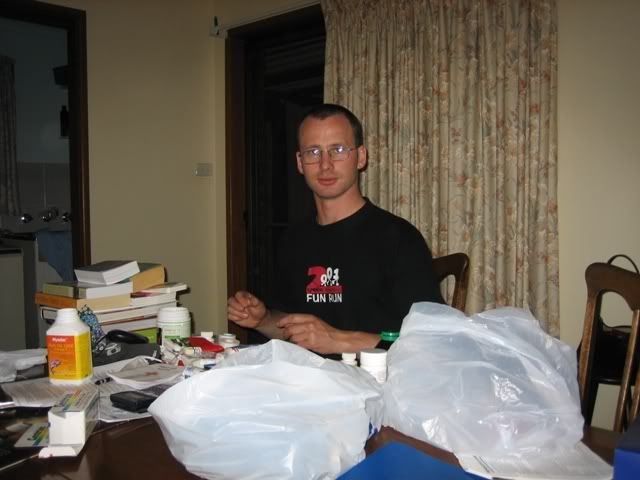 2 Last minute preparation in Dubbo
Friday 29th September
Rose early with muesli for breakfast. Hid the food drop near the bridge and drove on to Khancoban then Corryong. Filled up with LPG at Corryong and went from Tallangatta down Omeo Hwy to near 'Sunnyside'. Worst road I have driven on for a long time. Very slow journey back to Wodonga. Left XD at Rohan's and took his ute as well as parent's Commodore/van and drove to Jamieson. Set up in the caravan park, had a few drinks and talked to Caroline (who eventually found a mobile with reception). We had dinner at the pub, three massive steaks. I had a veal parmagana which had bolognaise sauce on it (a new experience). Much warmer night.
3 Dead Horse Gap, Geoff is not warm.
4 Omeo Hwy near Mt Wills. Geoff just off track at third food drop point.
Sat 30th September
Left Jamieson and went out Jamieson-Licola road and put the food drop down near Mt Skene (Barkly River Jeep Track junction), kept driving to Licola and then Traralgon. Lunch/shopping before proceeding to Rawson and setting up camp in the caravan park. It is AFL grand final day. An early dinner, too many drinks and bed. Said farewell to Caroline.
Sunday 1st October Day 1
We all got up around 6am, bacon and eggs for breakfast. We all drove into Walhalla and took a few photos then said our farewells. The first 8 kilometres to the old steel bridge crossing the Thomson River were easy. The track degenerated and the following climb up the 'Fingerboard Spur' was a lot harder than anything I had found in Dubbo (heart rate 160bpm). Basically descended then to O'Sheas mill site and set up camp. 16km traveled. Very early dinner and off to bed around 6:30pm.
5 Walhalla near the rotunda ready to start the walk.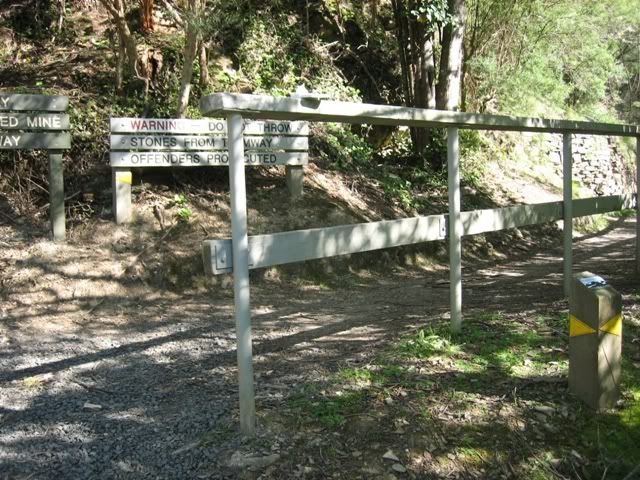 7 I started at the north gardens This is just above rotunda.
8 Walhalla from the old tramline.
9 Walhalla from the old tramline.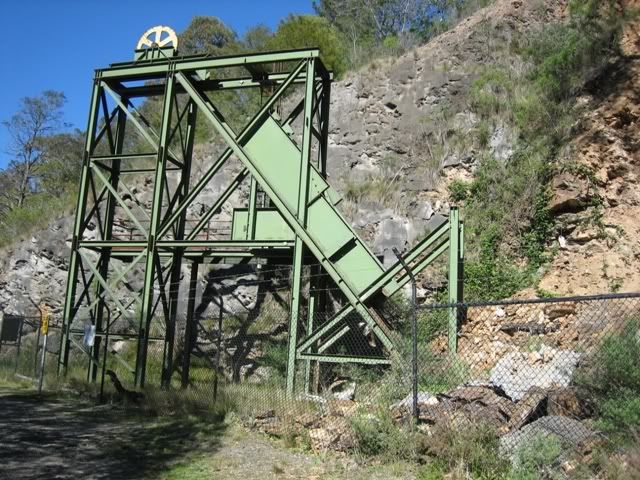 10 Long Tunnel Mine Poppet Head.
11 Walhalla and a sign stating 680km to go.
12 Signage Continued.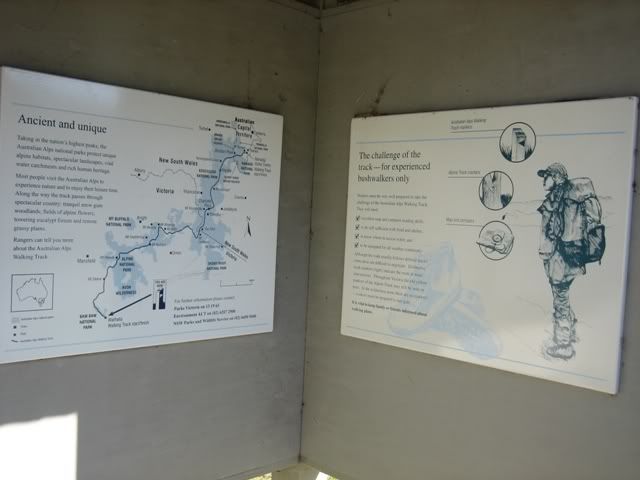 13 Signage Continued.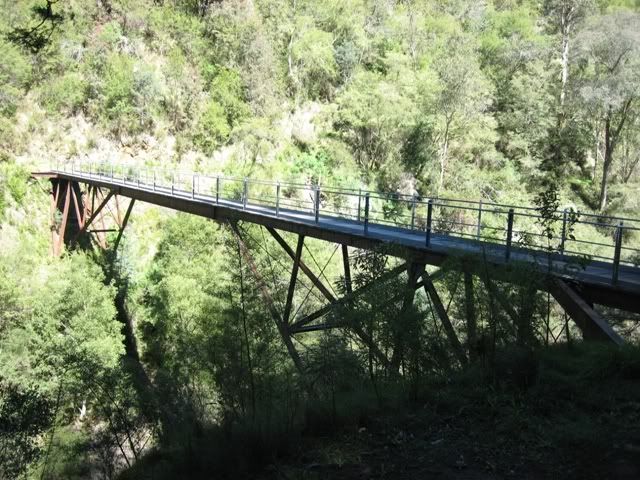 14 Poverty Point Bridge.
15 Poverty Point Bridge.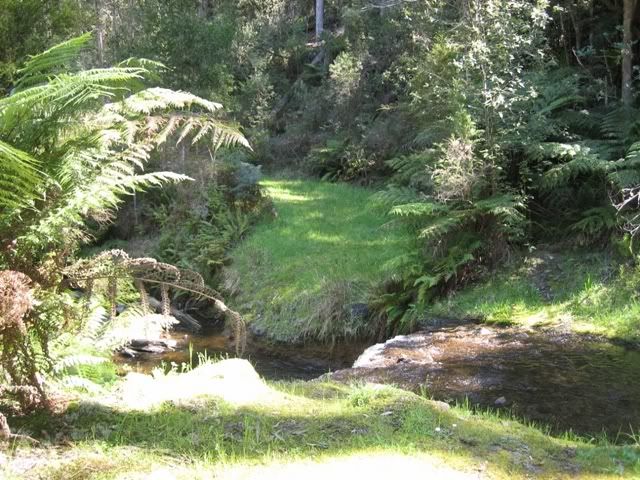 16 O'Sheas Mill Site.
Monday 2nd October Day 2
Rose 5:30am. Dawdled around and started walking at 7am. It took four hours to go from O'Sheas Mill Site to Mt Erica (around 12km). The Mushroom rocks below Mt Erica were quite a sight; big round rocks propped up there. The top of the Baw Baw Plateau is covered in small snow gums, as a result I have only glimpses of the valley below. Had lunch around Mt Kernot. Set up camp at the coordinates (438949 5811495); 1500m might make for a cold night. Campsite is beautiful with water available nearby. I get the feeling that the ranger I saw this morning on his way to Mushroom rocks car park may be the last person I see for a while. There are plenty of fresh footprints up here but since it is a Monday I think there might not be more until next weekend. I wonder if Caroline is worrying too much? Dinner was nice although I was a little cold preparing it. I left it too around 5:15pm and the whether cooled off very quickly as the sun disappeared. Not sure how cold it will be tonight so I have put on thermal uppers. I am in bed at 6:30pm; it is the warmest place and it will be dark in 20-30min.
17 Mushroom Rocks on the long climb up to the Baw Baw Plateau.
18 At Mushroom Rocks.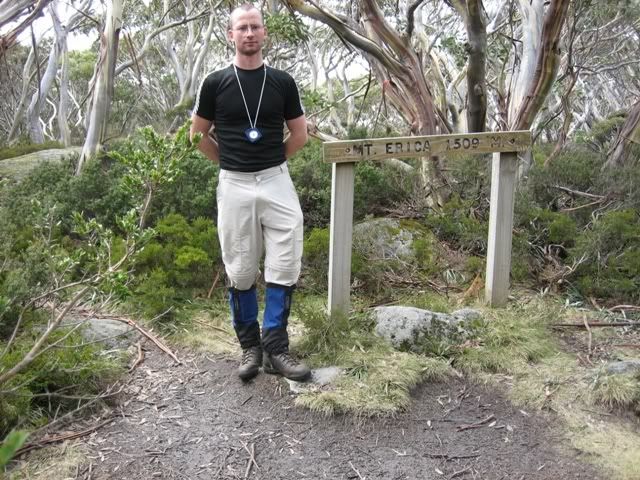 19  Mt Erica after the long climb and finally on the Baw Baw Plateau.
20 The old Alpine Walking Track markers, note the tree eating it up.
21 Well defined track on the Baw Baws with new style AAWT marker in blue.
22 Campsite just short of Mt St Gwinear track junction 1500m cold night.
Page 1  Page 2  Page 3  Page 4  Page 5  Page 6  Page 7  Page 8  Next Maps & Equipment Food Reflections & Planning